VRML Script Tutorial
Full list


VRML Interactive Tutorial

Introduction
VRML File Structure
Drawing: Shape node
Geometry Nodes:

Appearance Let there be Light Materials with Colored Lights
Hierarchical Node Structures Inlining Files
Defining and Instancing Nodes
Defining Levels of Detail
Events in VRML Interpolators Let the Music Play Bindable Nodes Adding Realism to the world Information about your world Definition for Auxiliary Nodes



‹
IndexedLineSet Node

The IndexedLineSet node specifies a set of polylines in the local coordinate system and associated colors.

This node contains five fields: coord, coordIndex, color, colorIndex and colorPerVertex.

The coord field specifies a Coordinate node. In this node a set of 3D coordinates are given.

The coordIndex field specifies a list of coordinate indexes defining the polylines to be drawn. To separate the indexes from one polyline a space is used, to separate the sets of indexes from two adjacent polylines the marker -1 is used, i.e. an index of -1 indicates that the current polyline has ended and the next one begins.

The color field defines a Color node. This node defines a list of colors to apply to the polylines. The color is optional, the default values being applied if the field is not specified. If a Material node is specified the default color is the emissive color from this node. Note that both the default emissive color and background are black, so if no color is specified and the default background is used you won't be able to see the lines.

The colorIndex serves the same purpose has the coordIndex but regarding colors.

The colorPerVertex is a boolean field which defines how the colors are applied.
colorPerVertex is TRUE: colors apply to each vertex. The final result is that each line starts in one color and ends with another color, producing a gradient effect. On some browsers the color for each line will be the average color for the two ends of the line. There must be as many indices in colorIndex as in coordIndex with the end-of-polyline markers,-1, in exactly the same place. If the colorIndex is absent then the coordIndex is used to select the colors and there must be as many colors as indices in coordIndex.
colorPerVertex is FALSE: colors apply to each polyline. There must be at least as many indices in the colorIndex as there are polylines. If the coordIndex field is absent then the colors are applied in the order presented in the color field.

Before presenting the syntax let's see some examples. In all the examples presented, the coord field has the following coordinates: 0 0 0 1 1 0 -1 0 0 -1 -1 0 Playing with coordIndex
Playing with colors: The colors specified are Red, Green and Blue
| | | |
| --- | --- | --- |
| | colorPerVertex TRUE | colorPerVertex FALSE |
| | colorIndex [0 1 2 0 ] | colorIndex [0 1] |
| | coordIndex [3 0 2 1] | coordIndex [0 1 -1 2 3] |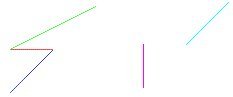 Note: On the example which had colorPerVertex set to TRUE the colors presented for each line are the average color from the two colors defined for the end of each line.

---
Syntax:
IndexedLineSet {
coord NULL
coordIndex [ ]
color NULL
colorIndex [ ]
colorPerVertex TRUE
}
---